10/01/08: TWO NEW ALBUMS, TWO NEW SINGLES, NOW AVAILABLE!
Our frantic release schedule continues with "Delivering the Goods" -- perhaps the most important power-electronics album ever, because the lyrics and themes are all about being in a power-electronics band! A brutal look into the brutal life of a band who wears extreme pants held up by many belts. Also available - two new singles featuring tracks from this masterpiece as well as B-Sides and live versions: the "Guamorrhea" CD maxi-single, released by Freenoise; and the "Sitar Solo" cassette single, released by Breathmint... And if all that was not enough, October 2008 sees the release of "Country Classics" - our brutal take on twelve Country & Western hits - you'll never look at a horse the same way again!
http://www.freenoise.org/mailorder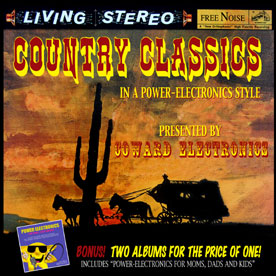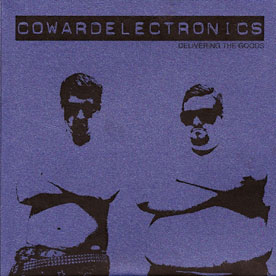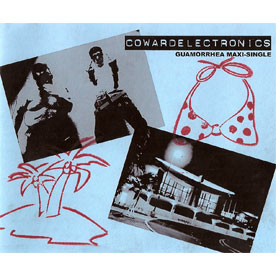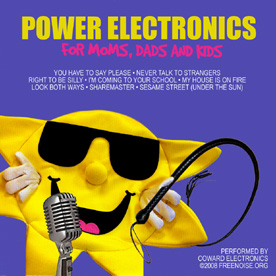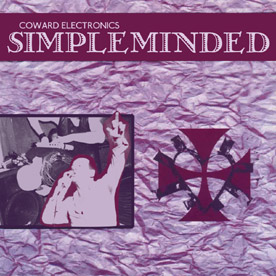 06/12/08: SPECIAL FRIENDS TOUR 2008 - COMING SOON
Watch for July dates in Houston and Guam!
04/25/08: NEW ALBUM "POWER ELECTRONICS FOR KIDS" AVAILABLE MAY 1ST!
Because children can be brutal too!
http://www.freenoise.org/mailorder
02/23/08: NEW ALBUM "SIMPLEMINDED" AVAILABLE MARCH 1ST!
The first new CE album in four years will soon be available as a CDR release from Freenoise Productions. As the title indicates, this album pays homage to the two most brutal bands we've ever heard: Simple Minds and Bloodyminded. Click the link below to order this most brutal of all tributes!
http://www.freenoise.org/mailorder
05/25/06: WE'RE NOW ON MYSPACE
Warning: befriend us only if you can handle our brutality!
http://www.myspace.com/cowardelectronics
01/10/05: VIDEO CLIP ADDED
One complete and brutal song from our historic first show in 16 years. This will wipe that stupid grin off your punk-ass face. So intense was this performance, we had to run away and cry afterwards - we are, after all, real men with real emotions - albeit mostly brutal ones!
12/18/04: STATUS OF NEW ALBUM "KICKED OUT OF THE METAL BAND"
Still in progress... Give us a break... This is our first new album in 14 years, so we had to fine-tune the lyrics before starting to record. Basically, we have more vocals to record, a lot of mixing to still do, and then the mastering. Will it still be out by the end of next year? Possibly.
12/18/04: WEBSITE LAUNCHED
You're looking at it now. The first offical website for the most brutal and confrontational harsh-electronics act to come along since Whitehouse broke up in 1984. Tell your friends - or better still, tell your enemies - one listen to our brutal music will be enough to send those poseurs back to Momma's house with pants full of crap!
SHAUN "THE CREEP" KELLY - Vocals + Electronics
(see also: Rotten Piece, Rusted Shut, Lazy Squid Rekkids)
EMIL "VIPER" HAGSTROM - Electronics + Vocals
(see also: Cock E.S.P., Origami Genitalia, SunShip Records)
CATSUIT CLUB, Houston, May 13 1986.
SUPER HAPPY FUNLAND, Houston, October 29 2004.
CLUB AMERICA, Dededo, Guam, July 1 2008
SQUID HOUSE, Houston, July 4 2008
Watch this space for details of upcoming shows.
"I HIT A WHORE" cassette (1986, Beyond Violence Records)
"RAMEN NOODLES/THE STRATEGY" cassette (1988, self-released)
"MALE PATTERN BALDNESS" cassette (1989, self-released)
"STRAY KITTENS" cassette (1990, self-released)
"MALE PATTERN BALDNESS" CDR reissue (2004, Breathmint Records)
"STRAY KITTENS" CDR Reissue (2004, E.F. Tapes)
"SIMPLEMINDED" CDR (2008, Freenoise Productions)
"POWER-ELECTRONICS FOR KIDS" CDR (2008, Freenoise Productions)
"DELIVERING THE GOODS" CDR (2008, Freenoise Productions)
"GUAMORRHEA" CDR MAXI-SINGLE (2008, Freenoise Productions)
"SITAR SOLO" CASSETTE SINGLE (2008, Breathmint Records )
"COUNTRY CLASSICS" CDR (2008, Freenoise Productions)
"KICKED OUT OF THE METAL BAND" CD (forthcoming)