WRONG
1994 - CELEBRATING 16 YEARS OF PRETENTIOUS FREE-IMPROV - 2010
NOW ON MYSPACE!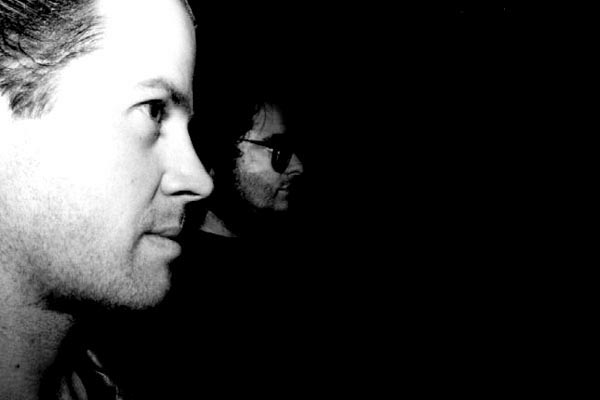 Don't second guess WRONG.

It's already built in and guaranteed to dis / appoint any expectation. Only by embracing loss can we curate the echoes of our own depth. Echostructure: based upon the full attainment of unattachment. WRONG is the misappropriation of the stream -of- consciousness vulnerability that steers past beauty into full-range climax. (This is for all you love gods out there.)

WRONG is an improvisational anti-structure exploring intimacy / adversary dynamics through ad hoc musical language and body / unconscious kinetics; a dys / functional aesthedit made interactive with Matter Energy Space Time and Artspeak.

WRONG has its hands out with no recruitment in mind. This is realized in a 3-Fold anti-plan for dis / satisfaction: Idea / Engagement / Emptyness. Intimacy through Confusion. A full exploration of intracontextual malaise via bootstrapping individual players' own limitations of flex / ability and capacity for direct, unmanaged communication, and against instinct on every level to burn away the False Self. Jam / Anti-Jam.

WRONG avoids Truth, yet constantly stumbles over it. What can be spoken shall; what cannot shall be held as subtext.

WRONG MOVES.
PLAYERS, PAST & PRESENT:
Seraphine Abraham, Jacopo Andreini, Matt Bacon, Rat Bastard, Jon Bates, Bengala, Shane Broderick, Greg Carr, Jaron Childs,
Amelie Collins, Loren Mazzacane-Connors, Jeremy Day, Dolores Dewberry, Pat Dundan, Aaron Ebensperger, Chris Freeman,
Peter Gaustad, Carlos Giffoni, Julia Gilman, Tim Glazner, E.W. Hagstrom, Don Haight, Eric Hofferber, Jeph Jerman, John Jindra,
Dan Kaniess, Jace Krause, Kyle Lapidus, Craig LeBaron, Le Deuce, Dave Loftquist, Devin Matticks, Bob Miller, Thurston Moore,
Jon Morgan, Rich Morgan, Matt Moses, Nandor, Nevai, Keith Nicolay, David OPP, Jesse Petersen, Chad Popple, Carly Ptak,
Mat Rademan, Damian Robinson, Eran Sachs, Matt St. Germain, Chris Sattinger, Zach Shieffelin, Rod Smith, Sean Smuda,
Lorren Stafford, Eve Vance, John Vance, Peter Victorine, Weasel Walter, Jon Whitney, Rani Zager.

DISCOGRAPHY:

Secular Humanist Revival
E.F. Tapes cassette, recorded Aug 1994
Hagstrom/Vance/Robinson

Noggin / WRONG split
E.F. Tapes cassette, recorded Nov 1994, Jan 1995
Hagstrom/Vance/Ebensperger/LeBaron

The Finland Subterraund / WRONG split
E.F. / Frigorifero cassette, recorded Jan, Apr + Jun 1995
Hagstrom/Vance/Robinson/Popple/Jerman

WRONG / Das Ludicroix split
Betley cassette, recorded Jan + Apr 1995
Hagstrom/Vance/Robinson/Jerman

Right Place, WRONG Time
Destroy All Music cassette, recorded Apr + Jul 1995
Hagstrom/Vance/Robinson/Miller

Various "When I'm Hungry I Eat"
Gourmandizer CD, recorded Apr 1995
Hagstrom/Vance/Robinson

If Lovin' You is Right, I Wanna Be WRONG
E.F. Tapes cassette, recorded Dec 95, Feb - Jun 1996
Hagstrom/Vance/Robinson/Haight/Day/J.Morgan/R.Morgan

Various "Cyclone 96"
Matching Head cassette, recorded Aug 1996
Hagstrom/Vance/Sattinger

Various "It's a Black Bean Pot Luck"
Blackbean 12-inch, recorded Sep 1996
Hagstrom/Vance/Robinson

Various "Ass High and Left of Center"
Black Velvet Fuckere VHS, recorded Aug 1996
Hagstrom/Vance/Robinson

Various "Tape Heads 3"
Haltapes cassette, recorded Dec 1997
Hagstrom/Vance/Day/Kaniess/R.Morgan/Childs

The Customer is Always WRONG
SunShip CDR, recorded 1995-1999
Hagstrom

Various "Pakistani Space Album"
Snowdonia CD, recorded Jul 1999
Hagstrom/Vance/Kaniess/Day/Mattickes

Various "Blackbean's Dirty Little Secret"
Blackbean CD, recorded Oct 2000
Hagstrom/Andreini/Gilman

Various "No Tribute - Music of the NSB"
SunShip CD , recorded 1999
Vance/E.Vance

Various "Freedom From Having To Be There"
Peddling Records cassette, recorded Jun 2004
Hagstrom/Vance

Various "Fok Rotkop"
Audiobot/Imvated/Jelly 3-inch CDR, recorded Mar 2004
Hagstrom/Bacon

Don't Get the WRONG Idea
E.F. Tapes cassette, recorded Oct 1994
Hagstrom/Vance/Robinson

The WRONG Release Unit - Live
Unreleased cassette, recorded Nov 1994
Hagstrom/Vance/Ebensperger/LeBaron

Can't Buy Me WRONG
Union Pole cassette, recorded Jan + Apr 1995
Hagstrom/Vance/Robinson/Jerman

Two Rites in the Hand...
Cakehole cassette, recorded Jun 1995
Hagstrom/Vance/Popple

WRONG Side of the Tracks
E.F. Tapes 8-track, recorded Jan + Apr 1995
Hagstrom/Vance/Robinson/Jerman

Tranquil / WRONG split
Destroy All Music / SunShip 7-inch, recorded Apr + Jun 1995
Hagstrom/Vance/Robinson/Popple

Various "P.S. Your Band SUCKS!"
E.F. Tapes cassette, recorded May + Jul 1996
Hagstrom/Vance/Robinson

Various "Faute de Mieux"
E.F. Tapes cassette, recorded Sep 1996, Dec 1997
Hagstrom/Vance/Robinson/Day/Kaniess/R.Morgan/Childs

in the WRONG
Betley/Blackbean/Climax/Freedom From/SunShip dbl CD,
rec. Apr - Jun 1995, Jul - Oct 1996, Jan - Dec 1997, Jan 1998
Hagstrom/Vance/Sattinger/Robinson/Smuda/Day/Matticks/
J.Morgan/Smith/Popple/Bengala/Bacon/Ptak/LeDeuce/Bates/
Lapidus/Moses/Nicolay/R.Morgan
[interpretation.mp3] [toneout.mp3]

Vaginum
Blackbean 12-inch, recorded Apr 1995
Hagstrom/Vance/Robinson

Live at Even Furthur / High Society
Blackbean / SunShip CD, recorded Dec 1996, May 1998
Hagstrom/Vance/Walter/Bacon

Meditations on Avant-Garde Truisms...
Gameboy cassette, Recorded 1995-2001
Hagstrom/Vance/Bacon/Andreini/Haight/Gilman/Morgan

Various "Short Attention Span"
Breathmint VHS, recorded Mar 2001
Hagstrom/Vance/Bacon

"Won't Admit We're WRONG - Gold Edition"
E.F. CDR, recorded 1998-2004
Vance/Hagstrom/Hofferber/Dewberry/Stafford/Bacon/
Mazzacane-Connors/Giffoni/Dundan/Petersen/
St.Germain/Kaniess
[mpls2004.mp3]

LIVE APPEARANCES :
Nov 30, 1994 / 7th St. Entry, Minneapolis / Hagstrom, Vance, Ebensberger, LeBaron / with Gniessmacher, Punch Drunk, Bellyflop
May 29, 1995 / First Ave., Minneapolis / Hagstrom, Vance, Popple / with Sonic Youth, Dead C
Jun 10, 1995 / First Ave., Minneapolis / Hagstrom, Vance, Popple / with Borbetomagus, Milo Fine, Cock E.S.P.
Jul 18, 1995 / The Red Sea, Minneapolis / Hagstrom, Vance, Miller / with Bosco Mazerati, My Three Sons, Betsy Wets Herself
Aug 1, 1995 / Fernando's, Minneapolis / Hagstrom, Vance, Popple / with Noggin
Aug 8, 1995 / The Red Sea, Minneapolis / Hagstrom, Vance, Popple / with My Three Sons, Bullet-Proof Vest, The Amputease
Aug 22, 1995 / The Saloon, Minneapolis / Hagstrom, Vance, Popple / with Shapeshifter, Own
Aug 28, 1995 / Uptown Bar, Minneapolis / Hagstrom, Vance, Popple / with My Three Sons, Gorge Trio, Bullet-Proof Vest
Nov 4, 1995 / Coffee Club, Moorhead MN / Hagstrom, Vance, Haight, Day / with My Three Sons
Dec 15, 1995 / Java Joint, St. Cloud MN / Hagstrom, Vance, Haight, Day / with My Three Sons, Energy Park
Feb 7, 1996 / 7th St. Entry, Minneapolis / Hagstrom, Vance, Robinson, Day / with Saucer, Dog Rapes Man, Skinner Pilot
Jun 12, 1996 / 7th St. Entry, Minneapolis / Vance, Day, Smuda, Shieffelin / with Vena Cava, Rifle Sport, Flour
Jul 10, 1996 / Mighty Fine, Minneapolis / Vance, Robinson, Smuda, J.Morgan, Sattinger, Gaustad / with Cock E.S.P., The Pins
Aug 17, 1996 / Ruiz Belvis Cultural Center, Chicago / Hagstrom, Vance, Sattinger, Smuda / with Flying Luttenbachers, Malta
Aug 18, 1996 / Puppetry Arts Studio, Minneapolis / Hagstrom, Vance, Sattinger, Robinson, Smuda / with Tranquil, Foe Toe
Aug 24, 1996 / Knitting Factory, New York / Hagstrom, Vance, Sattinger, Smuda, Nicolay / with 13 Gauge, Hippopotamous
Aug 26, 1996 / The Cooler, New York / Hagstrom, Vance, Sattinger, Robinson, Smuda, Lapidus, Moses, Bates
Sep 15, 1996 (early) / 7th St. Entry, Minneapolis / Hagstrom, Vance, Robinson, Smuda / witrh Babes in Toyland, Emma Peel
Sep 15, 1996 (late) / 7th St. Entry, Minneapolis / Hagstrom, Vance, Robinson, Smuda / witrh Babes in Toyland, Emma Peel
Sep 27, 1996 / SunSpace, Minneapolis / Hagstrom, Vance, Robinson / with My Three Sons, Lost in Translation, Blacki
Oct 15, 1996 / Fernando's, Minneapolis / Hagstrom, Vance, J.Morgan / with Wham-O, Stinkin Lizaveta, Blue Duchess
Oct 16, 1996 / 7th St. Entry, Minneapolis / Hagstrom, Vance, J.Morgan, Smith / with Irving Klaw Trio, John S. Hall
Jan 11, 1997 / Empty Bottle, Chicago / Hagstrom, Vance, Bacon, Freeman / with the Nihilist Spasm Band
Jan 14, 1997 / Terminal, Minneapolis / Hagstrom, Vance, Robinson, Matticks / with Blacki, Francis Gumm
May 16, 1997 / Art Jones Gallery, Minneapolis / Hagstrom, Vance, Day, Matticks, Smith / with Smut, Firebrat, Dave Foley
Jul 19, 1997 / Salon Zwerge, Chicago / Vance, Matticks, Glazner, Bengala, Ptak / with Hit by Flying Glass, Grandpa + the Girls
Jul 22, 1997 / Terminal, Minneapolis / Vance, Matticks, Robinson, Krause / with Command Module, Mafia
Jul 25, 1997 / Laughing Cup, Minneapolis / Hagstrom, Vance, Robinson, Matticks / with Lost in Translation, Liar's Club
Sep 19, 1997 / Memorial Hall, Madison WI / Hagstrom, Vance, Matticks, Day, Bacon, Bengala, St.Germain / with Shadow Ring
Dec 4, 1997 / Intermedia Arts, Minneapolis / Hagstrom, Vance, Day, Kaniess, R.Morgan, Childs, Collins / with Grant Hart
May 16, 1998 / The Space, Minneapolis / Hagstrom, Vance, Kaniess, Victorine, Krause, Smith, Loftquist, R.Morgan / with Caba
May 30, 1998 / Winnebago County Fairgrounds, Pecatonica IL / Hagstrom, Vance, Walter, Bacon / with Gooseneck
Aug 11, 1998 / Terminal, Minneapolis / Vance, Kaniess, Matticks, Jindra, Abraham, St.Germain, Gaustad, Krause / with Skye Klad
Sep 15, 1998 / Terminal, Minneapolis / Hagstrom, Vance, Kaniess / with 90 Day Men, The Captain
Oct 19, 1998 / The Cooler, New York / Hagstrom, Vance, Bacon, Lapidus, Bengala, Bastard / with Super, Flybussen, Timeblind
Nov 27, 1998 / Jitter's, Minneapolis / Hagstrom, Vance / with FB99, Dave Loftquist, Erik Wivinus as 0=2
Jul 10, 1999 / Gus Lucky's, Minneapolis / Hagstrom, Vance, Day, Kaniess, Matticks / with Dick AKA Dick, Laundryroom Squelchers
Oct 27, 1999 / Tonic, New York / Vance, Bacon, Mazzacane-Connors / with Loren Mazzacane-Connors
date unknown, 2000 / Gus Lucky's, Minneapolis / Vance, Kaniess
Oct 22, 2000 / WLUW-FM, Chicago / Hagstrom, Bacon, Andreini, Gilman
Mar 10, 2001 / Churchill's, Miami / Hagstrom, Vance, Bacon / with Pengo, Newton, U Can Unlearn Guitar, Asthmatic
Jul 5, 2002 / Subtonic, New York / Hagstrom, Vance, Giffoni / with Wobbly
Oct 21, 2003 / The Church, Minneapolis / Vance, Petersen / with Costes, Cock E.S.P., U Can Unlearn Guitar
Nov 11, 2003 / The Church (Basement), Minneapolis / Vance, Kaniess / with Lotus
May 24, 2004 / Big V's, St. Paul / Hagstrom, Vance / with NTX+Turquoise Diamonds, Dirty Projector, Faggot
Jun 15, 2004 / Den of Confusion, Minneapolis / Hagstrom, Vance / with Laundry Room Squelchers, Ova!
Jun 30, 2004 / First Ave, Minneapolis / Hagstrom, Vance, Hofferber, Dewberry, Stafford / part of the Rockstar noise orchestra
Jul 20, 2004 / Acadia, Minneapolis / Hagstrom, Vance, Petersen, Dundan, St. Germain / with Childs/Seru/Thompson/Zorn/Lafkas
Aug 3, 2004 / Big V's, St. Paul / Hagstrom, Vance / with Growing, Tarantism, The Bran (...) Pos, Rotten Milk, Diamonds
Aug 7, 2007 / Uganda, Jerusalem / Vance, Zager / with Amram Hapsychee, !Action!Attention
Aug 12, 2007 / Patiphone, Tel Aviv / Vance, Zager, Sachs, OPP / with Lietterschpich Diet, Katamine
April 15, 2008 / Future Pasture, Minneapolis / Vance, Hagstrom / with Laundryroom Squelchers, Jesse Petersen
October 23, 2008 / Hampshire College, Amherst / Vance, Hagstrom, Moore, Rademan, Broderick / with Cock E.S.P., White Mice
October 24, 2008 / Death by Audio, Brooklyn / Vance, Lapidus, Nevai / with Sauce Party, Future Blondes, Radio Shock
May 29, 2009 / Heliotrope Festival, Ritz Theatre, Minneapolis / Vance, Hagstrom, Kaniess
October 12, 2009 / Big V's, St. Paul / Vance, Kaniess
April 13, 2010 / International Noise Conference, Turf Club, St. Paul / Vance, Kaniess, Carr
Places where WRONG has played:

View Larger Map